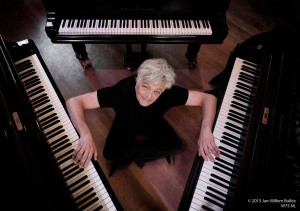 'Present to the Highest Pudding', recorded last summer with RJS playing the first 3 Supersister albums on 3 grand piano's simultaneously at the Beaufort Huis will be released on March 27.  People who attended this concert were invited to subscribe for a free copy – these will be sent to you on March 31.
While working on the – 200 minutes – DVD  it became clear that it would be worth to include a CD as well, with an own mix and edit omitting most of the announcements and focusing on the 75 minutes of pure music. the special index of the CD will appear on this site, later.  Needless to say that this project is meant as a momentum for the group as a whole, a tribute to every one ever involved with SUPERSISTER.
on April 3 Robert Jan will play the 3-grand-piano's concert for a second time, this time as a benefit-concert in and for the new roof of and 25th anniversary of the Beaufort Huis  + to celebrate the 'official' release of 'Present to the Highest Pudding' in the intermission of the concert, presented by no-one less than : Leo Blokhuis !

LINK naar 'PUDDING EN GISTEREN" van de CDVD 'PRESENT to the HIGHEST PUDDING